Teresa Pelanda
Teresa is the lead contact for Central & Eastern Europe and the Caribbean region, responsible for A2ii's implementation activities and cooperation with supervisors and regional associations. She is furthermore the A2ii's Monitoring & Evaluation specialist and responsible for the topic of Climate Change and Disaster Resilience. In 2016 she was seconded to the Insurance Supervisory Authority of Peru (SBS) where she supported the modification of the current microinsurance regulation. Prior to A2ii Teresa worked as a consultant on inclusive insurance topics in Germany and Peru. She holds a Master of Science in Regional Studies of Latin America from the University of Cologne with a focus on economics and cooperative studies. Teresa speaks German, English and Spanish.
---
Blog Posts from Teresa Pelanda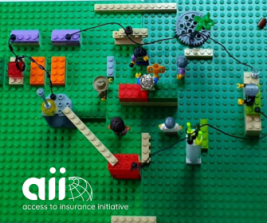 To be able to provide well-designed insurance solutions that address the needs of the low-income and excluded customers in a manner that is customer friendly but also economically sustainable, calls for innovation - i.e. to do new things or to do things differently.
more