Back to ICP (Self) Assessment
Presentations, Reports, ICP (Self) Assessment, Global | 2019
ICP Self-Assessment Tool
What is ICP SAT and how does it work?
The ICP Self-Assessment Tool (SAT) is a joint initiative of the IAIS and the A2ii. It uses the analytic tools from the Peer Review Process (the self-assessment questionnaire and the scoring criteria).
By filling out questionnaires on the SAT page (https://icp-selfassessment.org), supervisors can assess the level of observance of the Insurance Core Principles (ICPs). The results are generated immediately after the completion of a questionnaire. 
Watch this 3-minute explainer video:
The beta version of the ICP SAT was released at the IAIS IAC (Implementation and Assessment Committee) meeting on 12 November 2019 in Abu Dhabi.
Also in ICP (Self) Assessment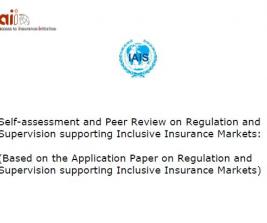 Reports, Toolkits, ICP (Self) Assessment, Global | 2017 Reports, Inclusive Insurance Fundamentals, ICP (Self) Assessment, Global | 2013