Lukas Keller
Lukas was responsible for donor engagement and policymakers' work at the A2ii until 2022. Before joining the Initiative, he worked as a consultant for the Inter-American Development Bank in Washington, DC, focusing on research and technical cooperation projects aimed at promoting financial inclusion and social security coverage in Latin America and the Caribbean.
He has also worked in the past with Dow Jones, Inc. and the Organization for Security and Co-Operation in Europe. Lukas is fluent in German, English and Spanish and also speaks intermediate level French. He completed his bachelor's studies in Business Management, Social Sciences and Law at the University of Magdeburg and holds master's degrees in Political Science and Public Administration from the University of Konstanz and Rutgers University.
Insurance can be a powerful tool for building resilience against unforeseen shocks and as such is a key enabler of sustainable development. At the A2ii, I work towards supporting insurance supervisors and regulators in furthering insurance market growth that particularly benefits low-income and other vulnerable population groups.
---
Blog Posts from Lukas Keller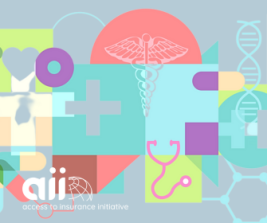 It is hard to see silver linings in the developments of the past 18 months as a global pandemic has wreaked havoc on the world economy, upending millions of lives and livelihoods. Yet, there is reason to hope that the crisis will provide new impetus to progress on several key development objectives, with the expansion of broad-based health coverage rightfully ranking as a leading priority. 
more